JD Capital Mini Account
At JD Capital, you can open a real forex trading mini account for only $100. The Mini Account differs to that of a Standard Trading Account in that it offers a higher leverage ratio and a smaller minimum deposit, while still giving the same trading experience offered in the Standard account. This is designed to cater to clients newer to Forex Trading and those who prefer to trade in smaller trade sizes.
You can open your Mini Trading account in under 10 minutes and after your account is verified, you can deposit funds using one of our many payment options. For more information on payments, please go to our Payments page.
Trading Features and Conditions of JD Capital - Mini Account
| | |
| --- | --- |
| Trading platform | MetaTrader 4 (MT4) |
| Account currency | USD or NZD |
| Trading products | 46 FX pairs; gold, silver, crude, indices CFDs. |
| Quotations | Fractional pricing/5 decimal places (0.12345) |
| Spreads | Variable spread, main FX pair from 1.5 pips. View a list of spread of all FX pairs. |
| Commission | No commission |
| Rollover | According to the trading products |
| Minimum deposit | 100  |
| Trading reward | None |
| Minimum volume | 0.01 lot (1K) |
| Maximum number of orders | 1 lot (100K) |
| Leverage ratio | 1:400 times leverage |
| Margin call level | 100% |
| Forced closing | 50%: when the security deposit in customer's account is lower than how much is required, the system will close the positions automatically. |
| EA trading | Support |
| Scalping | Unrestricted |
| Hedging | Unrestricted |
HOW TO OPEN A JD CAPITAL MINI TRADING ACCOUNT?
JD Capital welcomes you to open a Mini Trading Account. Please following the steps outlined below to open your real forex trading account.
Click on 'Open Mini Account" and follow the steps to complete the account opening application form
During the account opening process, you are required to submit proof of identity or a photo ID. (ex: driver's license or passport with your signature)
You are also required to submit proof of residence.

Proof of address/residence must be given as the form of an actual bill, phone bill or bank statement, including the form of a credit card. (the address must be within 3 months, and not a PO Box address)
The address in the proof of residence must be the same as in the application form. It must be your home address (not a PO Box address)

After you submit the documents, verify that the information you submitted is correct and click 'Submit'
JD Capital will assess the information and the documents submitted
Upon verification, we will send you the account information by email
You can then proceed to deposit funds to your JD Capital Mini trading account and start trading
Due to regulatory reasons, we unfortunately cannot accept applications from the following countries: see list
* You can upload the documents in PDF or in PNG/JPG formats.
* You can alternately scan and send the documents by email.
* For further questions you can click here to contact us.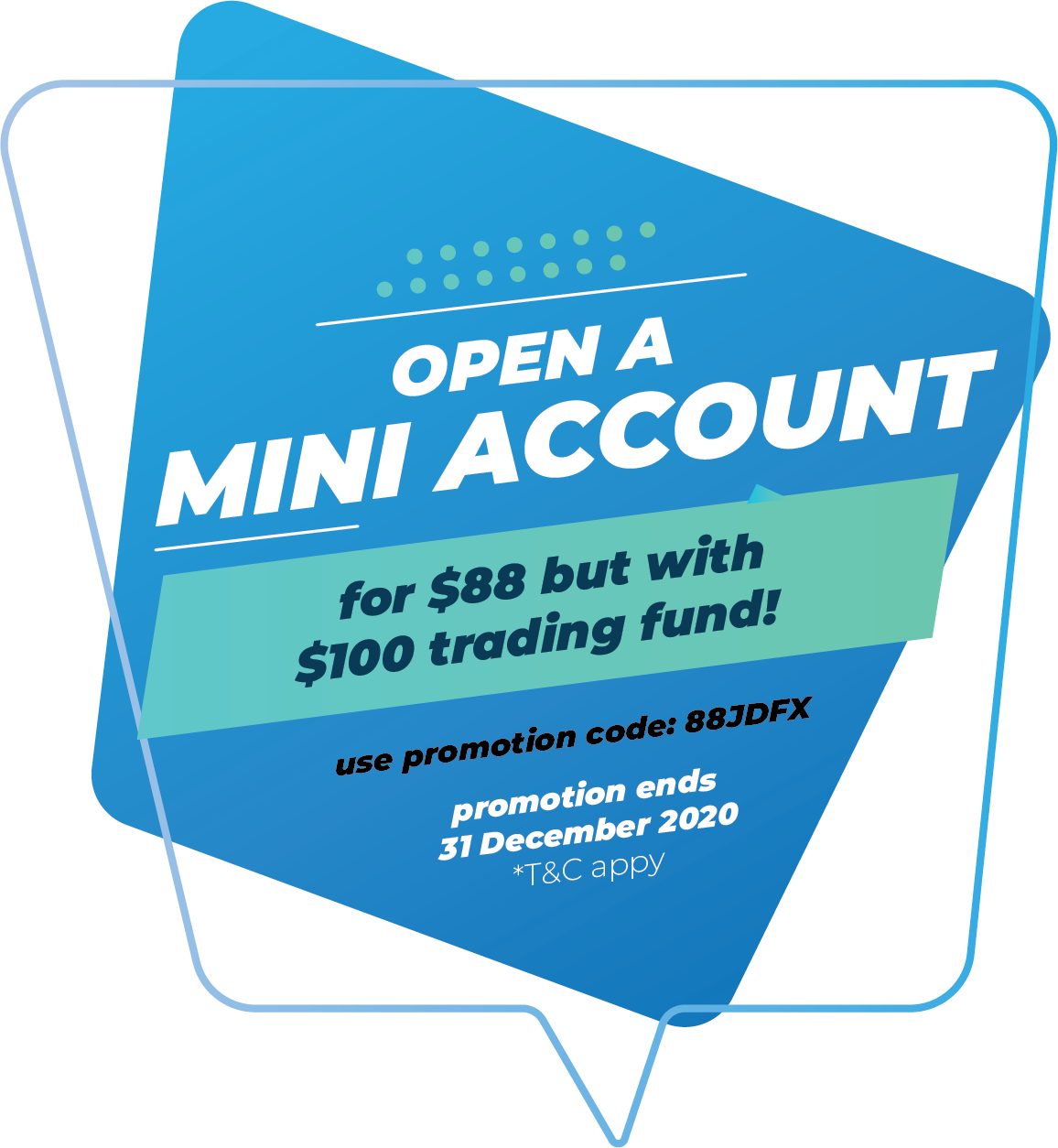 JD Capital '88 Mini Account' 2020 Promotion - Terms & Conditions
$88 for $100 trading fund!
By opening a Mini Account with JD Capital under this promotion, the client acknowledges they have received, read, and agree to be bound by these Terms and Conditions.
The promoter is JD Capital Financial Group Limited (JDC).
Defined terms have the same meaning as the Client Agreement unless otherwise specified in these Terms and Conditions.
This promotion is only available to qualifying accounts referred to in clause 5.
All new clients to JDC are eligible to open a Mini Account with a deposit of $88 and will instead receive trading funds of $100 in their account.
This promotion is only available to 31st December 2020 11:59 pm.
To be eligible, new clients must open an account – This means accepting the terms and opening a Live Account with JDC.
The new client must also make a deposit of $88 by 11:59 pm on 31 December 2020.
If the criteria in clause 7 and 8 are met, the account will be topped up to equal $100.
The $100 cannot be withdrawn or transferred from the account for a period of 6 months unless the client has executed trade lots equal to a sum of 1.
If no trades have been executed for 6 months, the excess $12 will be deducted from the account.
This offer is only available to new clients.
This offer is only available to clients that open a Mini Account.
The Client agrees, understands, and acknowledges that this promotion is not an intentional inducement to acquire JDC products or a recommendation that its products are suitable to his or her particular circumstances and that this promotion is not an intentional inducement to conduct transactions in any of JDC's financial products. Clients accepting the promotion should make their own assessment about the suitability of trading in JDC products.
Offer is not applicable to JDC staff or relatives, spouse or partner.
JDC shall not be liable to any account holder or any other persons for any loss or damage arising in connection with the promotion, including without limitation, any error in computing any chances, any breakdown, or malfunctions in any computer system or equipment.
JDC reserves the right to amend or terminate this promotion at any time without consent or notice.